The Train Now Departing (BBC documentary series, 1988)
Broadcast in 1988 to commemorate the 20th anniversary of the withdrawal of steam on British Rail. Rob Sissons provided these screencaps and comments:
"The third programme in the series included footage of 'Woking 150', a festival for the 150th anniversary of the first train to Woking. It looks as if some buses attended the festival as there are shots of a red RF and a very old (or possibly replica?) open-top double-decker. Unfortunately the buses are only seen in passing as the main focus was on the trains!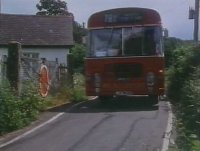 The fourth programme in the series featured the Isle of Man steam railway and started with views of Douglas promenade with horse trams prominently visible!"