Heirhunters
Series about a team of probate investigators.
Episode 11.5:
One of the subjects is a bus enthusiast, and we see a variety of buses from the East Kent Road Car fleet.
A bus station photograph has much of interest. An AEC Regent V/Park Royal is only partly in sight, but better scene is EFN179, a 1950 lowbridge Guy Arab III/Park Royal, followed by a Dennis Lancet III J3, which appears to be CFN116. This was new in 1949 with a half cab rear entrance Park Royal body, but rebuilt to a fully fronted front entrance layout in 1959.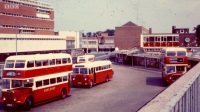 Also of interest is much later East Kent 0779 (RVB779S), a 1977 Bristol VRTSL3 with unusual Willowbrook full height highbridge body (a 14 foot 6 inch high body on a chassis that would normally take a 13 foot 8 body), seen here converted to open top: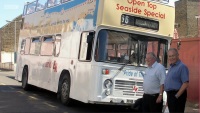 Pride of place, though, must go to superb PFN874, one of East Kent's fully fronted 1959 Park Royal bodied AEC Regent Vs: