Hammer House of Mystery and Suspense (Hammer mystery series, 1984-5)
Episode 10: The Corvini Inheritance:

High jinks filming with a London Transport MD class Scania Metropolitan. The bus is first seen dropping passengers off in the dark: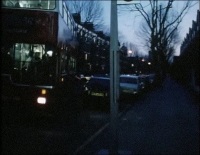 In a daytime scene, one of the main characters, played by Jan Francis, is waiting for a bus on route 36B in London, but when it stops, it's nearly full and she can't get on. As it draws away, we see the registration, OUC438R.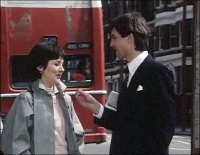 A second bus approaches and this time she's able to board it. Registration is OUC138R.
All is not quite as it seems, however. (Where do I start?) Firstly all three buses are played by the same vehicle, former London Transport MD138 (OUC138R). Then there's the date: this was filmed in 1984. MDs were removed from 36 route family in 1980. Next the registration OUC438R on the back of the bus is fictional. Then there's the location - this street was not on the 36B route. And there's the bus itself. 36B was run by Peckham garage, which had MD1-111 allocated. MD138 was one of the batch (MD112-64) allocated to New Cross garage, and never operated from Peckham. In fact, at the time the bus was owned by Stephen Smith, who provided some of the background when I posted this on the 'Remembering Metro-Scania & Metropolitan Buses' Facebook page.