You Must be Joking (1965, Terry-Thomas, Lionel Jeffries)
"Brief shot in a park shows Harrington Crusader coach registration 71MMJ, also a background shot of an RT."
(thanks Jon Price)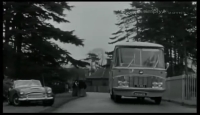 Bob Wingrove comments "I remember my mate telling me he had seen a comedy film one day and glimpsed 71MMJ on the TV but could not remember the name of the film so I'm assuming that this is the one and the same. Incidentally he owns 72MMJ! (operator will be Taylor's of Meppershall)"