Yanks (1979, Richard Gere, Vanessa Redgrave)
Set in the north of England during the Second World War; featured ex Keighley-West Yorkshire K451 (JUB29), a 1932 Leyland Titan TD1 with Eastern Coachworks lowbridge body new to Glasgow Corporation but carrying Keighley-West Yorkshire livery (thanks Keith Jenkinson).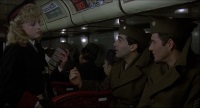 David Beilby comments: "I remember the filming of the bus sequences in Stalybridge bus station late one Friday night. JUB29 and also Bristol K5G/Roe CWX671 had been given Stalybridge and District fleetnames for the film and were also dirtied in a convincing manner, even when you were there. The preserved Grey Cars Regal III was also in attendance but as far as I remember only JUB29 actually appears in the film."