The Strange Love of Martha Ivers (1946, Barbara Stanwyck, Van Heflin, Lizabeth Scott, Kirk Douglas)
"Largely studio based - except for a couple of establishing and back projection shots showing Southern Pacific Cab Forwards and a slinky GS4 filmed in the back yard (Burbank and Simi Valley, maybe?) - with a nice model Cab Forward hauled freight thrown in - all purporting to be a Pennsylvania steel town! These shots show the cramped and cardboard set of Iverstown Bus Terminal with the two tricked up buses of the Intercity Lines that Lizabeth Scott seems to miss at least twice.
At one point Van Heflin gets beaten up by DA Kirk Douglas's goons and crawls from a ditch just as one of the stock buses comes along, which he rides back to the cardboard bus station.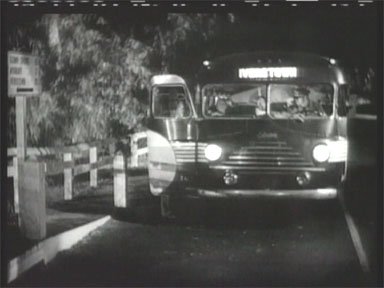 As it is a 'noir' epic, all are night shots. The choos-choos and Van Heflin's Desoto convertible I can identify, the buses I cannot." (thanks Graham) The bus is identified by Daniel Dey as a Flxible.