Seven Days to Noon (1950, Barry Jones, Andre Morell)
The authorities have seven days to find a professor who has threatened to blow up London; there are many general street scenes, often including London AEC Regent STLs:
Colin Read notes that the evacuation scene features a line up of three London Transport STLs and two RTs:
"then the best sequence of all - in this or indeed any film of this type - when two elderly vehicles (ST286 and STL341) feature for almost a minute of screen time. The conductor is shown standing on the platform of the STL,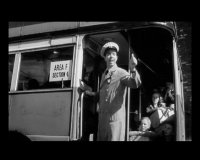 and then we see the ST, and the STL following, from the nearside.
Ian's Bus Stop
records both as withdrawn from service September 1949.
Several of the singledeckers seen with these AECs are in the livery of W S Hunt of Leatherhead. W S Hunt L3 (LPH998) is well seen; it's a Whitson-bodied Leyland Tiger PS1:
Hulton Archive
(serial number HN8430). From this I believe the ST seen here alongside the Crossley in this view is ST887: