Police Academy 6: City Under Siege (1989, Bubba Smith)
Stephen Osman notes:
"The 'mastermind' is escaping in a truck with an hydraulic boom and cradle on the back, followed by some of the cops in a monster truck, with Captain Harris and Lieutenant Proctor following behind them in a bus commandeered from a depot (after their car had been wrecked).

Despite the fact that they are in a police chase, Proctor insists on stopping periodically to pick up passengers!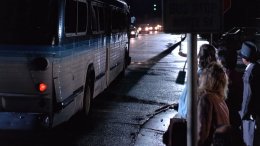 After crashing over kerbs and around various obstacles the bus comes to rest after knocking over a fire hydrant (creating a fountain effect right at the bus door).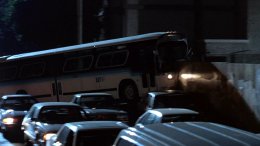 The passengers then disembark (most putting up their umbrellas!) with a young girl commenting 'you're much better then the regular driver'."
Although set in New York the movie was filmed in Los Angeles, in fact at one point a Los Angeles bus appears in the background; the bus used in the chase is a GM New Look in a fictional 'Urban Transit Authority' livery and with '23rd Broadway' on the destination indicator. It is taken from 'Service Yard No. 2' - a second New Look is seen behind it.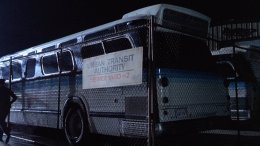 One of these buses is seen in a scene earlier in the film when the villains narrowly escape after robbing a jewellery store.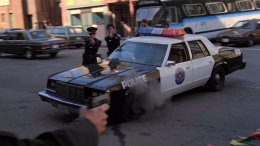 There is also a Flxible Metro seen early in the movie. Screen captures and additional information by KA.