Michael Collins (1996, Liam Neeson)
"There's a brief view of a 1920s vintage bus in the station yard when Collins returns to Ireland after his release from prison in England.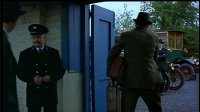 Also,there are various shots of pseudo-trams,which in fact run on rubber tyres,in the scenes set in Dublin,which I think were filmed on a huge custom-built set. However,the type of tram depicted wasn't brought into service in Dublin until after Collins' death!
(thanks Alan Sinclair)
The <http://www.imdb.org/">Internet Movie Database reports a 1980s-vintage bus appearing in the background of one scene, but having seen the movie I'm wondering if this is one of the trams.