Las Leyes de la Termodinámica AKA The Laws of Thermodynamics (2018, Vito Sanz, Berta Vázquez, Chino Daren)
A sequence in Barcelona features two British open toppers. I believe they were both supplied by publicity company Publidinamica.
The first bus is full open top and is therefore I believe either H0265BBF, new in 1989 as Trent 618 (G618OTV), or H5281BBF new in 1989 as Trent 608 (F608GVO). Both are Volvo B10M-50 Citybuses with Alexander body.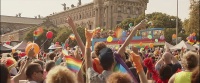 The second is partial open top, and I therefore believe it's H0267BBF (new in 1991 as Dublin Bus RH59 (90-D-1059), but later registered in the UK as H337YYD. If so it's a Leyland Olympian with Alexander (Belfast) body: